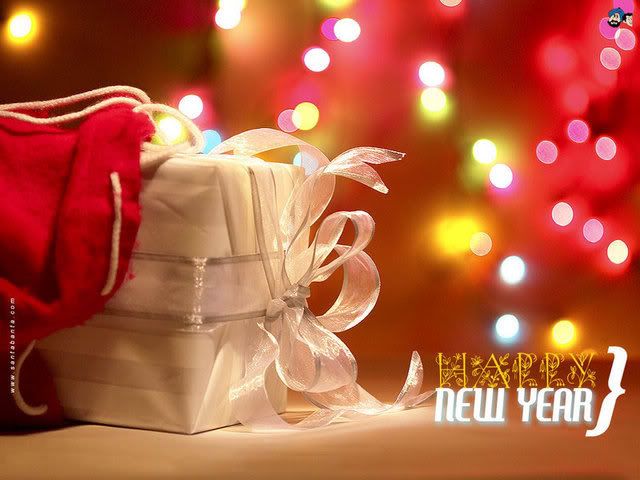 My month long vacations are coming to a close and while I may not have accomplished all those things I really wanted to in my winter break, there's one thing I certainly did and did quite well and that was- reflecting on all that transpired in the year 2009. At this time of year I am always both happy to see a new year coming and kind of sad to see the old one go . It's just another day and this year would soon be over. This year flew by huh? Some years seem to inch by. This one didn't waste any time gettin' on down! Last year crawled real slow but this one- ah, well, I felt an ability to savour every moment, something I strongly doubted back then but tough times don't last forever! Do they?? :)
There's something about this year that I want to hold onto- kinda linger on those lovely memories a little longer and that's maybe because this year was exactly how I thought it would turn out to be- special and beautiful in its own ways, except for a few odd instances now and then but that's perfectly alright. I have been blessed with so many wonderful people around me, and in all my endeavours, I have been meeting souls that give so much and make my life a blessing—the more you open up, the more you receive—is really working oh! so well in my case. Before I knew it, a new moment kept popping up, demanding attention. Not sure if that's really a good thing or bad but that kept me busy and as a result of that 2009 was a different experience altogether and all this while I've grown in many ways from all those experiences over 365 days and nights, and now, I'm looking forward to 2010 with the same excitement a runner feels looking forward to his next marathon.
2009 was a year of starts but twenty ten will be one of results. There's gonna be big effort ahead but I'm no less excited by the challenge and the motivation to live up to it. There may be no rhyme or reason to whatever I'm rambling here but certainly there are smiles and laughter that have made this year one that was significant and memorable in its own distinct ways. This one was spent
in
the moment, one where I never thought too far, for I had too much to be thankful for each new day that had something different, something positive to offer all along. Anyways, now I am hoping that changing of those numbers, doesn't change much of the stuff in my life ( not for the worse atleast :P ) since I'm actually content with my current state of affairs!
Among others, there's one thing I learnt and rather practiced well this year & that was to take care of things today – one day at a time- and only then anticipate tomorrow. And believe me, it worked! :) Life is too short to pout about stuff that went wrong and although you can be stuck with problems and hurdles on your way, you can't really see the beauty God fills your life with - each day, each moment, until we live in "the here & now". Last night, my family having fallen asleep already, I was standing on our back deck at the stroke of Midnight. I stood there, and it was right there - The moon beckoning from afar – luminous, warm, inviting and that's when I prayed for the strength and wisdom to approach the coming challenges of this new year. I hope that the moon continues to shine on me and my loved ones giving us the vision to see each new opportunity, and the will and courage to act when necessary (and the understanding on when not too). If everyone endeavors to become better, and do what they can to make life better for those around them, then we can make this world a better place.
Blessings of God are new every morning, so why let the failures of yesterday ruin the beauty of today?? Anyways, now that it's time once again to ring out the old and ring in the new, so here's wishing you all a Very Happy New Year, hoping that it fulfills all your secret desires and aspirations turning all your dreams into reality and all your efforts into great achievements!
Shalom!:)